Event Details: –
Date: – 16th, March, 2022
Time: – 3PM onwards
Venue: – G2
Participants will have to come in a Team of 2-4 members.
Participation E-Certificates will be provided
There has to be 2 minimum and a maximum of 4 members in a team.
The performance has to be silent with no words.
The player has to use facial expressions, gestures, and body language.
Clues like lip-reading, humming songs, pointing to an object, and making spelling with hands are banned.
Language, the number of words, and the age of the film must be said at first (only in guestures).
There is a particular time limit for teams to guess the movie.
Teams have to alter until every player has acted once(max 4 guests per team).
Scores are recorded for every correct answer and one point if the opposite team fails to guess within the allotted time.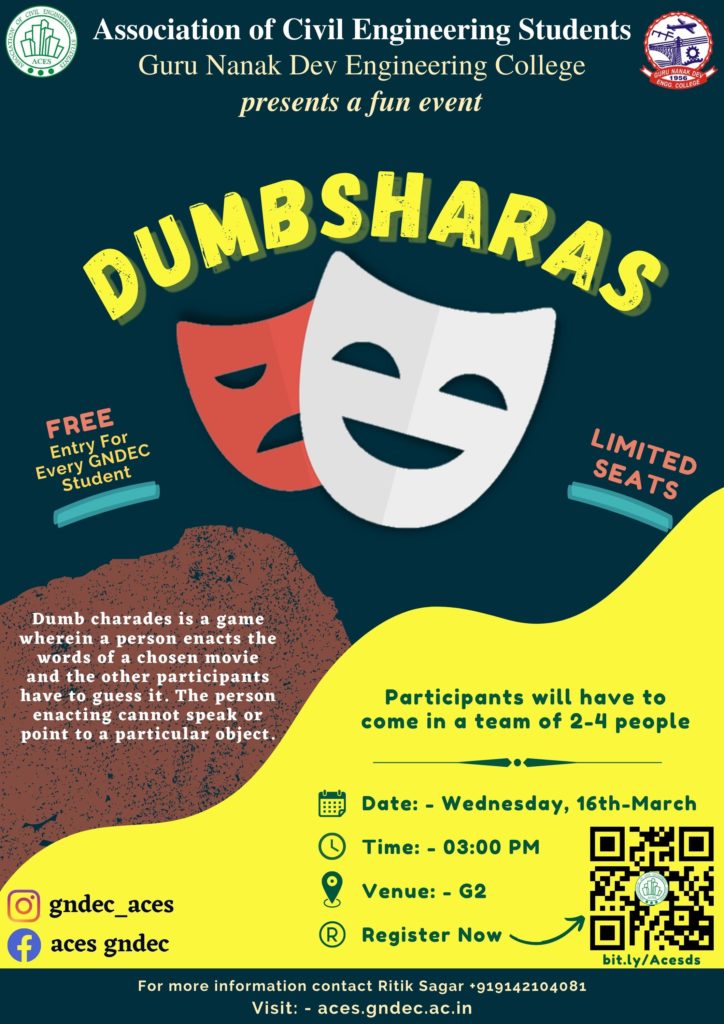 The Association of Civil Engineering Students (ACES) organized an event named "Dumbsharas". As evident from the name, it was an offline fun event and was conducted on 16th March 2022. It had 100+ registrations. Students were appointed as disciplined in charge to maintain the decorum, and it was a successful event with the Final participation of 45 students in 12 teams. The event started at 3:30 pm and continued till 04:30 PM as per the rules of the game.
| | | | | | |
| --- | --- | --- | --- | --- | --- |
| Team No. | Name | URN | Branch | Year | Position |
| 11 | Lucky Rana | 2005135 | Mechanical engineering | 3rd year | 1st Prize |
| 11 | Gobind | 2005127 | Mechanical engineering | 3rd year | 1st Prize |
| 11 | Abhishek pal | 2005120 | Mechanical engineering | 3rd year | 1st Prize |
| 11 | Sahil bhogal | 2005142 | Mechanical engineering | 3rd year | 1st Prize |
| 5 | Bhaveeth Singh | 2104022 | Civil Engineering | 2nd year | 2nd Prize |
| 5 | Ishpreet Kaur | 2104030 | Civil Engineering | 2nd year | 2nd Prize |
| 5 | Gurkaran Singh | 2104024 | Civil Engineering | 2nd year | 2nd Prize |
| 5 | Kanika | 2004439 | Civil Engineering | 2nd year | 2nd Prize |
| 3 | Jagjot Singh | 2104387 | Electronics & Communication Engineering | 1st Year | 3rd Prize |
| 3 | Karthik K | 2104134 | Computer Science Engineering | 1st Year | 3rd Prize |
| 3 | Madhav Purohit | 2104138 | Computer Science Engineering | 1st Year | 3rd Prize |
| 3 | Ritik Ahuja | 2104417 | Computer Science Engineering | 1st Year | 3rd Prize |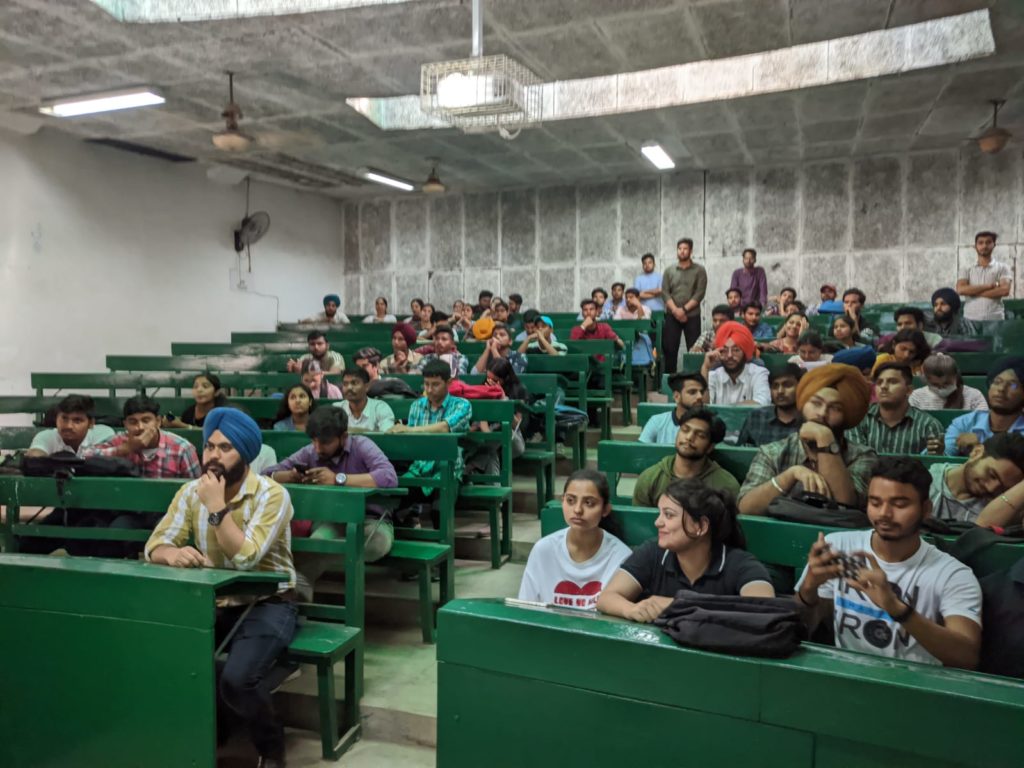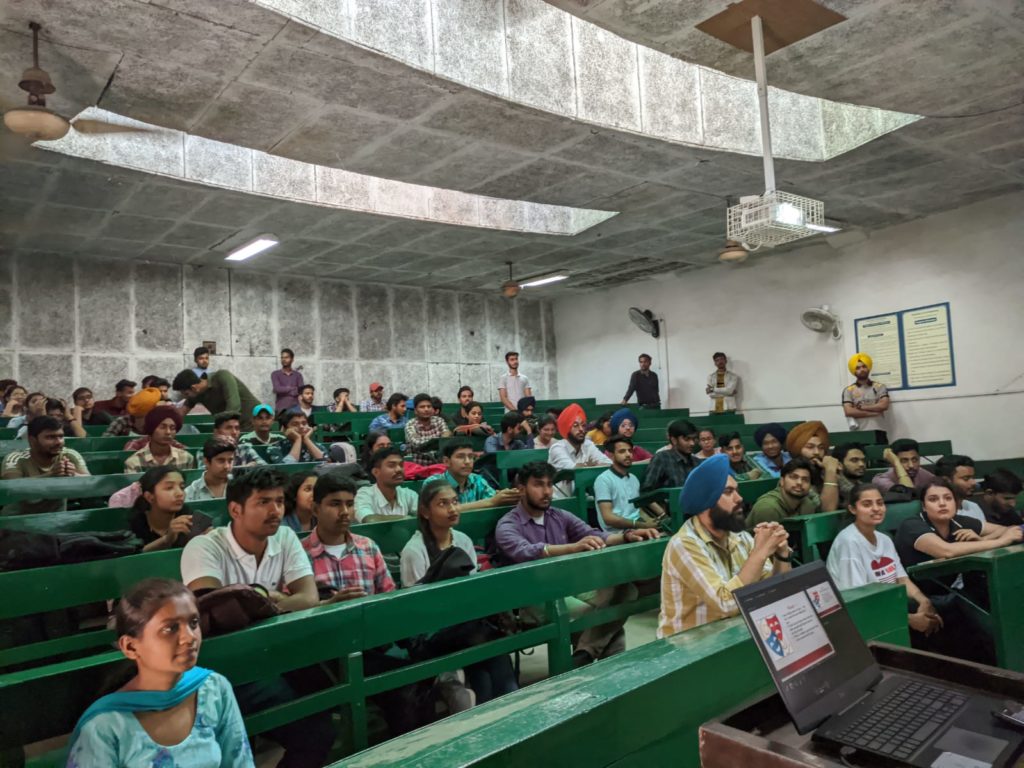 | | | | | |
| --- | --- | --- | --- | --- |
| Team No. | Name | URN | Branch | Year |
| 1 | Rahul Sharma | 2104164 | Computer Science Engineering | 1st Year |
| 1 | Arsh preet Singh | 2104475 | Information Technology | 1st Year |
| 1 | Shashank Kumar | 2104186 | Computer Science Engineering | 1st Year |
| 1 | Areen Singh | 2104074 | Computer Science Engineering | 1st Year |
| 2 | Aman mittal | 1805006 | Civil Engineering | 4th year |
| 2 | Kuber tyagi | 2140137 | Computer Science Engineering | 1st Year |
| 2 | ROBIN Rawat | 2104170 | Computer Science Engineering | 1st Year |
| 2 | Shaweta | 1905589 | Mechanical Engineering | 3rd year |
| 4 | Bharti | 2103954 | Civil Engineering | 1st Year |
| 4 | Saraswati Thakur | 2103999 | Civil Engineering | 1st Year |
| 4 | SandeepKumar ramniwas Verma | 2103997 | Civil Engineering | 1st Year |
| 4 | Utkarsh sharma | 2104013 | Civil Engineering | 1st Year |
| 6 | SIMARPREET KAUR | 2104193 | Computer Science Engineering | 1st Year |
| 6 | RAGHAV CHOPRA | 2104159 | Computer Science Engineering | 1st Year |
| 6 | JAISIKA | 2104263 | Electrical Engineering | 1st Year |
| 6 | Nittin Kumar | 2104149 | Computer Science Engineering | 1st Year |
| 7 | Anshika Janghu | 2004891 | Information Technology | 2nd year |
| 7 | Ananya Mahajan | 2004889 | Information Technology | 2nd year |
| 7 | Kunal Kamboj | 2004616 | Computer Science Engineering | 2nd year |
| 8 | MANJOT SINGH | 2104526 | Information Technology | 1st Year |
| 8 | Pankaj kumar | 2104544 | Information Technology | 1st Year |
| 8 | Md Raihan Shamim | 2104531 | Information Technology | 1st Year |
| 8 | Raaz singh | 2121067 | Information Technology | 1st Year |
| 9 | Divyanshu Pratap Rana | 2004422 | Civil Engineering | 2nd year |
| 9 | Divya Prakash | 2004421 | Civil Engineering | 2nd year |
| 9 | Anshika Sinha | 2004404 | Civil Engineering | 2nd year |
| 9 | Sejal Madan | 2004985 | Information Technology | 2nd year |
| 10 | Rahul | 2104679 | Mechanical engineering | 1st year |
| 10 | Ritwik | 2104687 | Mechanical engineering | 1st year |
| 12 | Pratiksh | 1905562 | Mechanical engineering | 3rd year |
| 12 | Bhany chawla | 1905472 | Mechanical engineering | 3rd year |
| 12 | Karan singh | 2004515 | Civil engineering | 3rd year |
| 12 | Shubuit rana | 2104698 | Mechanical engineering | 1st year |
| | | | | |
| --- | --- | --- | --- | --- |
| Sr. No | Work | Name | URN | Year |
| 1 | Secretary | Sharanjit Singh | 1904922 | 3rd year |
| 2 | Event Head | Ritik Sagar | 1904905 | 3rd year |
| 3 | Flyer designer | Ritik Dogra | 1904903 | 3rd year |
| 4 | Photographer | Ritik Bind | 1904904 | 3rd year |
| 5 | Time keeper/bell ringer | Sarvanshdeep Singh Sahota | 1904917 | 3rd year |
| 6 | Event coordinator | Mehakdeep Singh Sandhu | 1904884 | 3rd year |
| 7 | Scores noter | Sarabjeet kaur | 1904916 | 3rd year |
| 8 | Attendance marker | Beant Kaur | 2004419 | 2nd year |
| 9 | Scores noter | Pristi | 2104046 | 2nd year |
| 10 | Host | Sakshi | 2104050 | 2nd year |
| 11 | Attendance marker | Taranjot Kaur | 2004487 | 2nd year |
| 12 | Discipline | Sidhant Jindal | 1904930 | 3rd year |
| 13 | Discipline | Rohan Singh | 1904907 | 3rd year |
| 14 | Discipline | Karamjeet Kaur | 1904871 | 3rd year |
| 15 | Discipline | kavleen Kaur | 1904872 | 3rd year |
| 16 | Discipline | Nikhil | 1904890 | 3rd year |
| 17 | Discipline | Shivam Kumar | 1904926 | 3rd year |
| 18 | Discipline | Ayush Sharma | 2004416 | 2nd year |
| 19 | Discipline | Kshitiz Kumar | 2004443 | 2nd year |