In this situation of pandemic Association of civil engineering students (ACES) organized a virtual farewell party "FAREWELL 404" on 6th September 2020 on ZOOM APP where we all bid farewell to our seniors of the outgoing batch (2016-20) with great enthusiasm and of course nostalgia.
The Event started at 4:20 PM with a welcoming speech then our faculty advisor Prof. Sukwinderpal Singh, Prof. Yuvraj Singh, and Prof. CHARNJEET SINGH shared a few words with us, followed by the speech of honorable Head of the department Dr. Hardeep Singh Rai. He is motivated and wishes our seniors a bright career and happy life ahead.

Finally, the event closed with the prized words of Prof. Yuvraj Singh.
The Event comprised 3 games:
Emoji to movie.
Two Truth One Lie.

Rapid Fire.
Then Some titles of the above games were given to the Winners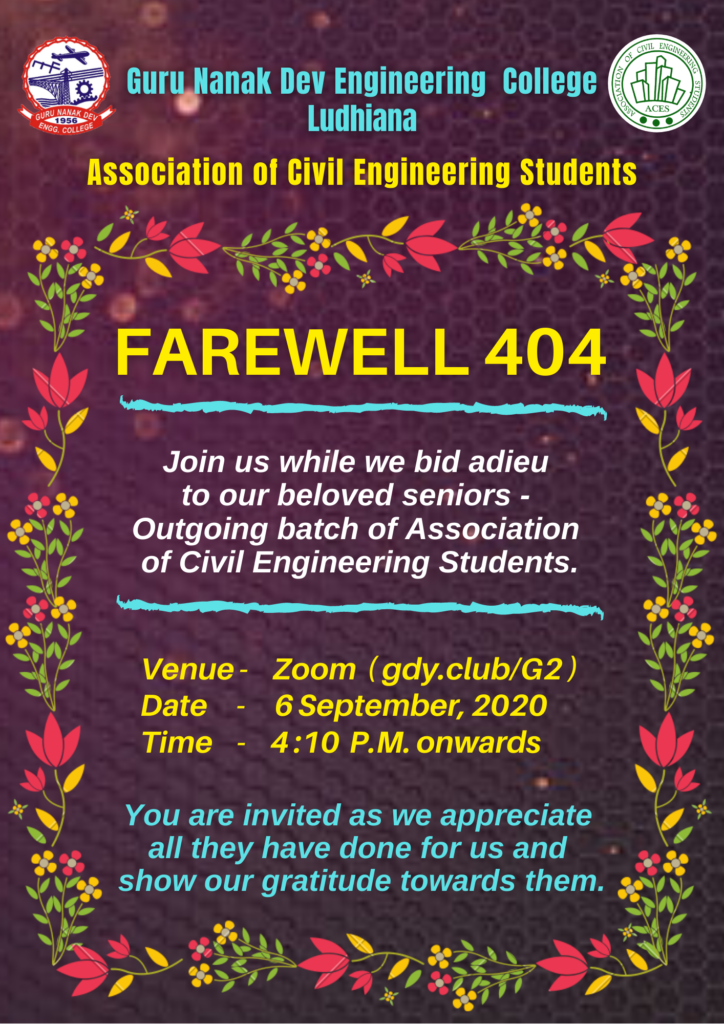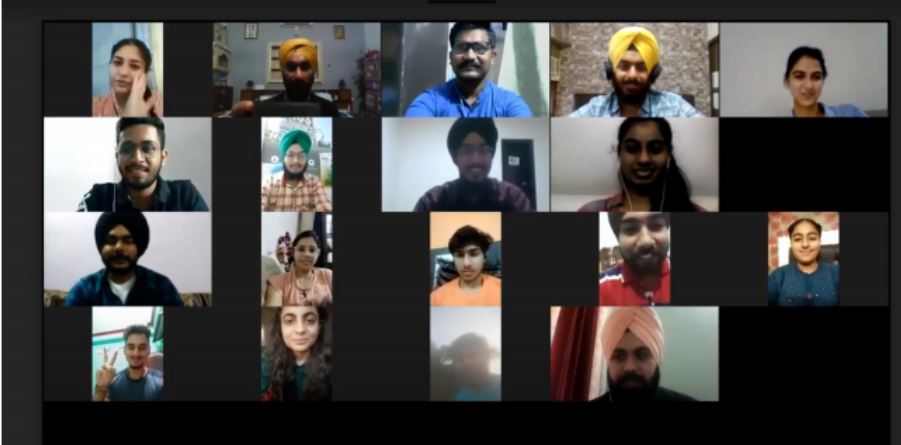 | | | | |
| --- | --- | --- | --- |
| Sr. No. | Name  | Year  | URN |
| 1 | Mehakdeep Singh  Sandhu | D2  | 1904884 |
| 2 | Khushmeet Kaur  | D2  | 1904873 |
| 3 | Ritik Dogra  | D2  | 1904903 |
| 4 | Richa Kashyap  | D2  | 1904875 |
| 5 | Sarvanshdeep Singh Sahota | D2  | 1904917 |
| 6 | Sarabjit Kaur  | D2  | 1904916 |
| 7 | Sidhant Jindal  | D2  | 1904930 |
| 8 | Sharanjit Singh  | D2  | 1904922 |
| 9 | Ananya Verma  | D2  | 1904816 |
| 10 | Shiv Pratap Dubey  | D2  | 1904925 |
| 11 | Nikhil  | D2  | 1904890 |
| 12 | Abhishek Thakur  | D3  | 1805499 |
| 13 | Japjyot Singh  | D3  | 1805054 |
| 14 | Tejas Walia  | D3  | 1805113 |
| 15 | Ujjwaldeep Singh  | D3  | 1805117 |
| 16 | Charanpreet Singh  | D3  | 1805029 |
| 17 | Minkle Motan  | D3  | 1904962 |
| 18 | Manpreet Singh  Bains | D3  | 1805076 |
| 19 | Amanpreet Kaur  | D3  | 1805008 |
| 20 | Harshdeep Singh  | D3  | 1805049 |
| 21 | Ketan Singh  | D3  | 1805066 |
| 22 | Aman Mittal  | D3  | 1805006 |