Association of civil engineering students (ACES) organized a Fun event named "RANG DE BASANTI". It was an online reel submission event. This event was conducted on 5th & 6th February 2022.
It had 45 registrations and 27 responses from participants.
Event Details –
It was a reel-making event. This event was categorized into 3 parts. The participant could make reels on any of the following categories –
Kite making: –

They can make handmade Kites with their unique ideas and send us a video or picture of them.

Food Mania: –

They can make food as per theme and click its pictures or make a video while making it.

Dress up: –

They can dress up as per theme and can add their pictures in reels.
The submissions were done via Google form.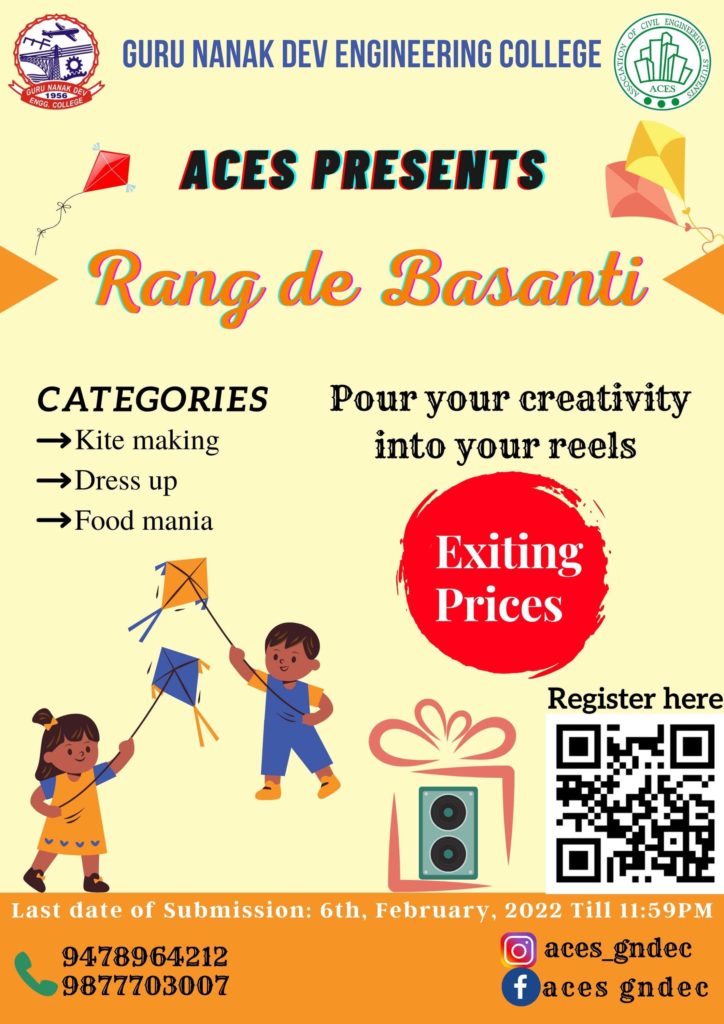 | | | | | |
| --- | --- | --- | --- | --- |
| Category | Name | Branch | Year | URN |
| Kite making | Sakshi Kumari | Civil | D1 | 2104050 |
| Dress up | Nisha Goyal | ECE | D2 | 2032005 |
| Food mania | Raj Gupta | Civil | D1 | 2114047 |
Category
Name
Branch
Year
URN
Kite making
Piyush Kumar
Civil
D1
2103987
Sandeep Kumar
Civil
D1
2103997
Tanya Raj
Civil
D2
2004486
Prishti
Civil
D1
2104046
Dress up
Anshika Sinha
Civil
D2
2004404
Divyanshu Rana
Civil
D2
2004422
Vanshika Chaudhary
IT
D3
1905412
Food mania
Sharanjit Singh
Civil
D3
1904922
Awaljot Kaur
B.Arch
D2
2026514
Gauri Luthra
B.Arch
D2
2026517
| | | | |
| --- | --- | --- | --- |
| Sr. no | Name | Year | URN |
| 1 | Mehakdeep Singh Sandhu | D3 | 1904884 |
| 2 | Sarvanshdeep Singh Sahota | D3 | 1914917 |
| 3 | Sarabjeet | D3 | 1904916 |
| 4 | Shiv Pratap Dubey | D3 | 1904925 |
| 5 | Ritik Dogra | D3 | 1904903 |
| 6 | Sharanjit Singh | D3 | 1904922 |
| 7 | Sidhant Jindal | D3 | 1904930 |
| 8 | kshitiz Kumar | D2 | 2004443 |
| 9 | Gurpinder singh | D2 | 2004426 |
| 10 | Nabeel Farooqui | D2 | 2004449 |
| 11 | Smriti Sharma | D2 | 2004481 |