Sanrachna (Bridge modelling contest)
A bridge modelling event was conducted on 17th March 2023 in Hardware Lab on TechFest name "TechnoMela" was conducted. In this event the participants have to make a model of the bridge from the materials provided. Total 7 teams registered for the event, but 5 teams were participated in the event.
Three Judges named Dr. (Prof.) Harwinder Singh and Dr. (Prof.) Jagbir Singh were the present for the judgement of the submissions made by the participants. Three finalists' teams were selected on the basis of several parameters like: Creativity, Aesthetics and Load sustained.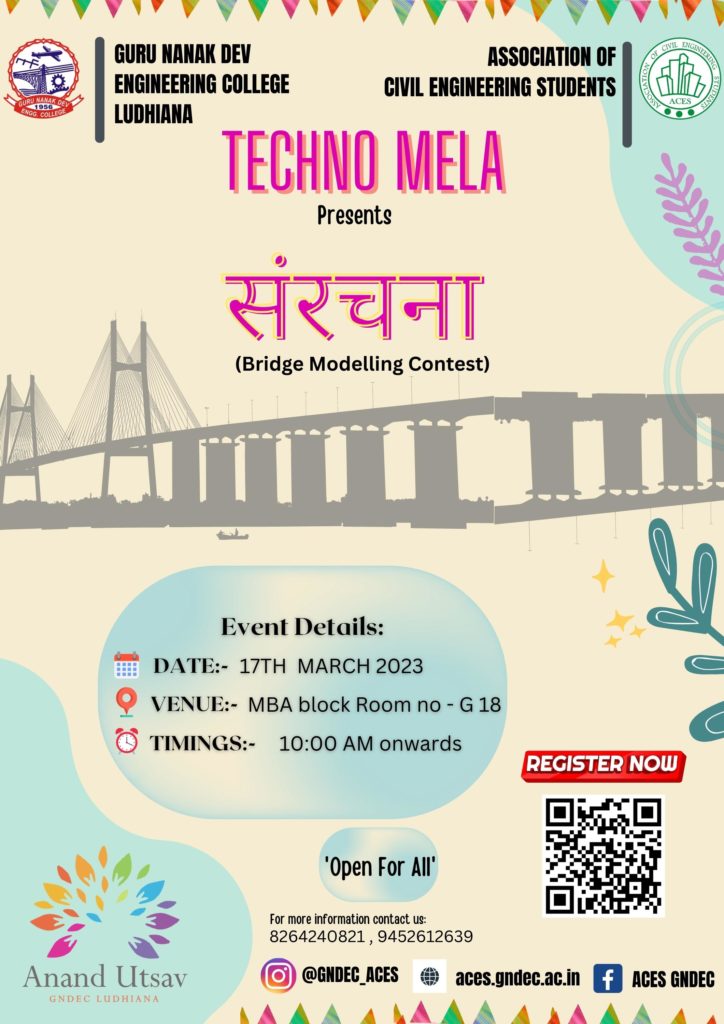 All Teams with Their Models
Position

Team No.

Name

URN

Year

Department

1st

2

Shivam Kumar

1904926

4th

Civil Engineering

Sidhant Jindal

1904930

4th

Civil Engineering

Rohan Singh

1904907

4th

Civil Engineering

Mool Chand

1904885

4th

Civil Engineering

2nd

4

Aditya Singh

2005021

3rd

Mechanical Engineering

Rahul

2004463

3rd

Civil Engineering

Gobind Kumar

2004812

3rd

Electronics and Communication Engineering

Anchal Kumari

2004784

3rd

Electronics and Communication Engineering

3rd

3

Abhikash Jamwal

2005019

3rd

Mechanical Engineering

Hunarpreet Singh

2005059

3rd

Mechanical Engineering

Sahil Sharma

2005102

3rd

Mechanical Engineering

Rahul Choudhary

2004645

3rd

Computer Science
Team No.

Name

URN

Year

Department

1

Anurag Kimothi

2004407

3rd

Civil Engineering

Ashish Ranjan

2004413

3rd

Civil Engineering

Ashish Yadav

2104021

3rd

Civil Engineering

Ashutosh Agnihotri

2004415

3rd

Civil Engineering

2

Shivam Kumar

1904926

4th

Civil Engineering

Sidhant Jindal

1904930

4th

Civil Engineering

Rohan Singh

1904907

4th

Civil Engineering

Mool Chand

1904885

4th

Civil Engineering

3

Abhikash Jamwal

2005019

3rd

Mechanical Engineering

Hunarpreet Singh

2005059

3rd

Mechanical Engineering

Sahil Sharma

2005102

3rd

Mechanical Engineering

Rahul Choudhary

2004645

3rd

Computer Science

4

Aditya Singh

2005021

3rd

Mechanical Engineering

Rahul

2004463

3rd

Civil Engineering

Gobind Kumar

2004812

3rd

Electronics and Communication Engineering

Anchal Kumari

2004784

3rd

Electronics and Communication Engineering

5

Abhishek Kumar

2004880

3rd

Information Technology

Pushkar Kumar

2004845

3rd

Electronics and Communication Engineering

Pranav Ranjan

2004841

3rd

Electronics and Communication Engineering

Nivhil Kumar

2004833

3rd

Electronics and Communication Engineering
| | | | | | |
| --- | --- | --- | --- | --- | --- |
| S. No. | Responsibility | Name | Phone Number | URN | Year |
| 1. | Event head | Ayush Kumar | 8264240821 | 2004416 | 3rd |
| 2. | Host | Sakshi Kumari | 7763055813 | 2104050 | 3rd |
| 3. | Organiser | Taranjot Kaur | 9855433907 | 2004487 | 3rd |
| 4. | Organiser | Anshika Sinha |   | 2004404 | 3rd |
| 5. | Organiser | Gurveer Kaur | 7009340653 | 2004427 | 3rd |
| 6. | Organiser | Divyanshu Pratap | 9452612639 | 2014103 | 3rd |